My first 24 hours with a Nvidia Shield TV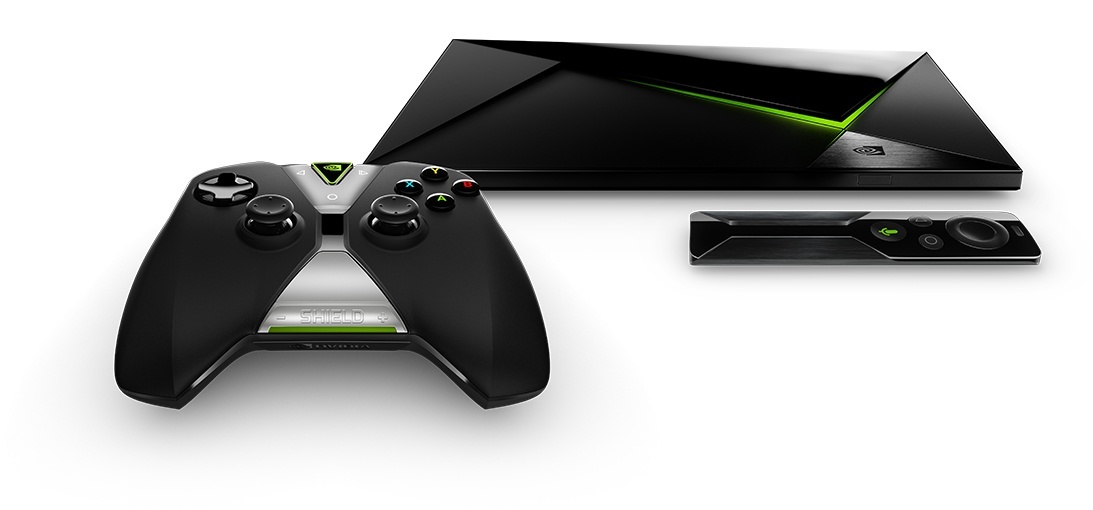 I have to say I was insanely excited to receive my new Nvidia Shield TV. It's a streaming TV/gaming combo that will power the games room in our new loft conversion when it's finished in a couple of weeks. I went with the 16GB model instead of the 500GB version as all of the reviews said that a large Micro SD card would be better than spending the extra.
Learning my lesson from previous technology purchases, I bought all of the accessories available – namely an extra controller, the voice-enabled Bluetooth remote, and the (very suave) stand. This was made lighter on my pocket by using the new Barclays-backed Bespoke Offers website that saved me £56 in total. It's probably only available in the UK, but it was as easy as copy/pasting the Amazon link into a box on their site and buying through a supplier they found that was cheaper.
Once you've powered on the device you realise just how fast it is. There's no lag on anything. It's actually difficult to describe in words because we're used to a slight. almost imperceptible, pause between actions on digital devices. There's none of that here. Everything you'd expect from the streaming side of things is there, and you can download a small selection of certified-compatible Android games from the Google Play Store.
Diving into the GeForce NOW menu is a smörgÃ¥sbord of delights. There's a plethora of games to play, and of course a parental controls menu to limit to various PEGI-rated age groups. I had a discussion with my kids as I was happy not to turn on parental controls (I don't filter broadband in our home). However, they said they'd rather it was turned on to PEGI-7 so they don't see inappropriate things. I didn't know whether to be shocked, pleased, or bemused!

The real fun comes when you realise it's running Android, so you can sideload anything you want. We wanted FIFA 16 Ultimate Team, which isn't listed as a compatible game. Thankfully, it's a pretty straightforward process. I just fired up Android File Transfer on my Mac, connected the USB cable to the Nvidia Shield TV and dragged/dropped APK files over to the 'Downloads' folder.
I did have to go digging a bit, but here's some links for those who want to do likewise:
Some games work but it's almost impossible to proceed. An example of that would be the latest Need For Speed, where there's no way to press 'Continue'. FIFA 16 works pretty well, although it's single-player and not quite as fluid as the PlayStation version we're used to.
That being said, my eight year-old son in particular is delighted. He's been playing Red Bull Air Race, Riptide GP2, and Minion Rush on and off all morning. There are some great multiplayer games, including Toybox Turbos – which is my four year-old daughter's favourite (and which seems to be the direct descendant of the Micro Machines game I used to play 20 years ago).
All in all, it's a wonderful little device. I've got a PS3 but this purchase was instead of a PS4. So far, I'm delighted with my investment.